Yellowing paintwork…..
Yellowing  paintwork in particular solvent based trim paints is often seen but little understood:
Yellowing of paintwork has been a problem with this type of paint, almost since it was invented. Primarily, it  is caused by oxidation of solvent based coatings (reaction to air) due to the way this type of paint cures.
This can be exacerbated by heat from radiators, fires, covering paintwork and low light
However Ultraviolet radiation, which is the part of sunlight that turns you brown, helps this type of paint stay white (or on colour), by reducing the yellowing process – it's a bit like using bleach  on a cloth, this is why you often  find the wooden skirting more yellow behind furniture
Traditionally, differences between oil based top coats and water based top coats are durability, flexibility, resistance to knocks, flaking, moisture, covering ability, cost, plus many other matters, but all types are formulated to do certain jobs in the best possible way, with  the new breed of Acrylic based paints now offering many of the same benefits as solvent based paints, one of the leading manufacturers of water based paint technologies is Bedec, a relatively small company based In Essex, however they are making waves in the water based paint field that the likes of Dulux, Crown etc can only dream of.
Some of the waterbased top coats use polyeurathane which can be formulated as non-yellowing, however many are not. Pure acrylics do in my experience  not suffer from yellowing, but there is still a chance that over time the whiteness will diminish slightly
Paints which are water based are commonly water based have their brushes and utensils generally cleaned in water. Those which are resin based are commonly called Solvent (or oil) based paints, brushes and utensils used in these generally need cleaning in White Spirit.
We often use Bedec Barn paint on exterior trim where a long lasting water based finish is required, and have recently completed a property in Aughton, Lancashire using this Product on dark stained hard wood windows that the owners wanted to transform from stained to a nice light colour befitting of a country cottage.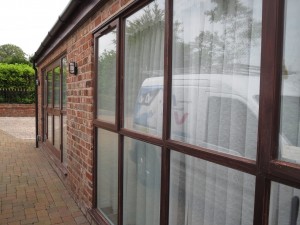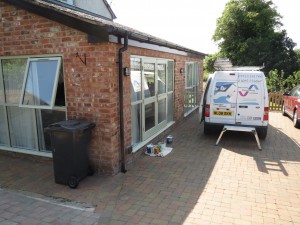 Bedec Barn Paint in use
To see other useful info, hints and tips visit us on facebook:-  http://www.facebook.com/harmonydecorating