Colour trends 2014 (UK)
Colour trends 2014 (UK) – The top trend colour for 2014 perfectly combines the natural harmony of green with the tranquillity of blue. Reflecting the overriding trend of unlocking, tthe colour for this year is 'Teal' which has a gentle character and is a favourite in the world of design. Deeper and more sophisticated than turquoise, teal has a subdued richness which is often used to describe tropical seas of shimmering bluish green.
A tertiary colour, teal is the combination of primary blue and secondary green which today is used to describe several different tones of this majestic colour. Somewhere between blue and green it has come to symbolise balance, but should be combined with neutral tones and shades of wood so as not to overwhelm a space.
For such a statement colour, teal is surprisingly versatile and works well in different colour combinations. Sitting opposite coral on the colour wheel it works beautifully with delicate pinkish tones and warm ochre yellow, but for a trend look should be combined with other tones of teal, green or blue to create a tone-on-tone effect. Layering teal with indigo, denim or navy provides an oceanic feeling, cool, dynamic and welcoming. Combining our Colour of the Year with greens such as mint, duck egg or emerald will give a fresh natural effect; or for a neutral combination choose a colour with a natural wood tone.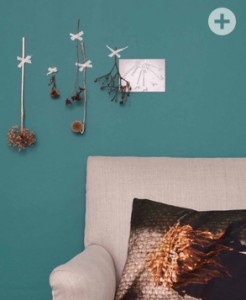 Dulux Teal[/caption
Teal = Sophisticated, balanced, versatile, tranquil which is why Emma from Ormskirk chose this colour recently for a feature wall in her living room, the result was very pleasing to the eye,and the client was made up with the result
Harmony Decorating of Ormskirk work closely with all of our clients to offer colour consultation advice including the latest trends and colours to be avoided dependant on the room to be decorated, so for advice coupled with first class service, great quality and market competitive pricing give us a call today on 01695 576867 or email info@harmonydecorating.com
This post has been created from information supplied by Akzo Nobel, and all rights to ownership of content remain with them, we merely share this post for information purposes. All trademarks and rights remain with the original content creators (Akzo Nobel)
Harmony Decorating 2014.