Blown Vinyl decorating in Skelmersdale
Harmony Decorating in Skelmersdale provide all our decorating services including Painting and wallpapering, recently we have noticed a trend making a comeback in the area, that trend is in the usage of Blown vinyl decorating in Skelmersdale…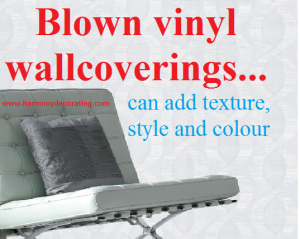 Despite a surge of wallpaper designs and patterns on the market, an increasing number of customers using decorators in Skelmersdale are opting for paintable blown vinyl wallpaper over traditional patterned designs.
Blown vinyl wallpapers, or paintable whites as they are sometimes termed, offer much greater flexibility in terms of the texture, pattern design and colour and are ideally suited to customers looking for decorating in skelmersdale as an easy way to add texture and style to walls without the need for extensive surface preparation.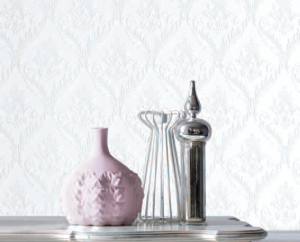 One of the key benefits to selecting blown vinyl wallpapers, is that they bring texture to walls whilst effectively covering over any wall surface imperfections. Also, you can be sure that there is something to suit all tastes, at value prices. By using this type of wallpaper, customers choosing decorating in Skelmersdale can still create a striking feature wall by opting for a bold textured pattern, vintage or contemporary, as the main feature wall and combining with a more simplistic understated textured pattern style on the other three walls.
Using blown vinyl wallpaper while decorating in Skelmersdale in this instance to complement the feature wall essentially provides a blank canvas and gives customers the flexibility to then personalise with colour and paint all four textured walls to create a unique look. Textured pattern designs can help to bring out the reflective qualities in paint, making the room feel brighter and lighter.
They can also be re-painted to create a fresh new look, without the need to replace the wallpaper as seasons or trends change. It therefore provides customers with a cost effective solution for increasingly stretched budgets.
Opting for blown vinyl is not just appealing for customers but also beneficial to decorators in Skelmersdale as they offer a practical solution to covering imperfections, without the need for extensive surface preparation and are easy to hang, meaning you'll be able to complete the project in a shorter time, and at a lower cost
At the other end of the scale, these wallpapers are also easy to remove, again saving time in the long run for both customers and decorators in Slelmersdale.
Copyright for this article remains with the author (Harmony Decorators in Skelmersdale) and Harmony Decorating in Skelmersdale do not authorise this article to be used in full or in part by any other, decorators in Skelmersdale, nor do we allow other agencies or people to duplicate any of this content.